From an industrial manufacturer to segmented consumer brands that change the way people live, work and move.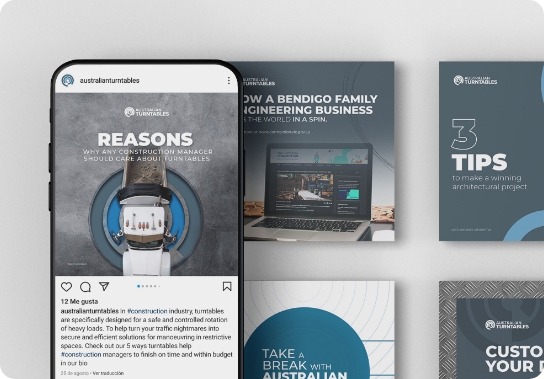 Crafting a clever Brand Articulation piece to connect the company essence with the future
Our goal was to create a complete brand & marketing transformation journey to support Australian Turntables with their expansion worldwide.
Starting with crafting a clever brand articulation piece to connect the company essence with the future and following with the development of a digital growth and sales support system to duplicate sales results in 12 months.


We delivered and designed a central brand strategy, plus two extended brands for Australian Turntables. We used the essence of simplicity and innovation to establish leadership and relevance.
We also created a content plan and strategy segmented per category, buyer persona, and specific journey, plus a digital growth plan and execution.
Finally, we created an audiovisual production to support sales and marketing assets, improving conversions through powerful creative executions.

The opening of the United States and India offices and adaptation of internal culture to the new brand vision. New brands launched for B2B and B2C, web positioning and visibility per industry – 79% of all traffic, web impressions increased by 10k in 3 months, and web clicks increased by 1k in 3 months.